IGLC 17 Travel: Destination Taipei
Introduction
The city is situated in a basin in northern Taiwan that was inhabited by aboriginal peoples until settlers from China moved into the area about 300 years ago. Eastern Taipei was largely underused fields until the nineteen-seventies, when the city began to develop the area as a financial and commercial district. Here, the modern face of Taipei shines through, with its glass and steel skyscrapers, wide boulevards, and the world's tallest building, Taipei 101. Taipei also boasts dozens of world-class performance venues, where you can enjoy world-class theater and concert events. The city also offers a wide range of other diversions -- shopping malls, nightclubs, live-music bars, quality hotels, and exotic restaurants.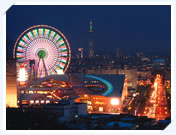 Weather
Taiwan enjoys a subtropical climate with warm weather all year round. Taiwan is extremely suitable for traveling, as the annual average temperature is a comfortable 22 degrees Celsius with lowest temperatures ranging from 12 to 17 degrees Celsius (54-63 Fahrenheit). It will be around 30 degree Celsius in July in Taipei.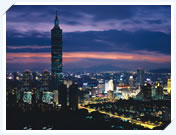 Gourmet Paradise
Taipei is a diner's paradise, a place where the smell of food emanates from every street corner, and the food here is excellent. From international cuisines to local Taiwanese dishes, the menus in Taiwan will have you coming back for more. In the city itself, there are many popular international eateries featuring Chinese, Thai, Japanese, Indian and Western cuisine with good service and moderate prices.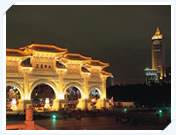 For more information, please visit: